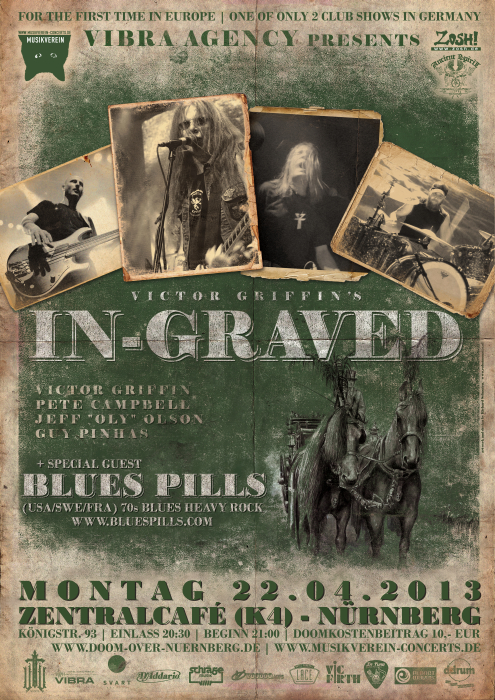 IN-GRAVED
Doomed Heavy Rock | US
Es gibt Bands, da ist es irgendwie müßig, groß und breit darüber zu schreiben. IN-GRAVED fallen wohl in diese Kategorie. Klar, der Name an sich mag gar nicht so vielen etwas sagen... noch nicht. Denn bei der Besetzung dürfte allen Freunden und Freundinnen langsamer tiefergestimmter Gitarren sogleich das Wasser im Mund zusammenlaufen. Allen voran Mastermind VICTOR GRIFFIN (Gitarre, Vocals - ex-Pentagram, Place Of Skulls) dürfte für Begeisterung sorgen. Weiter mit dabei: GUY PINHAS (Bass - The Obsessed/Beaver), "MINNESOTA" PETE CAMPBELL (Drums - Place Of Skulls/60 Watt Shaman) und JEFF "OLY" OLSON (Keys – ex-Trouble).
Es versteht sich von selbst, dass IN-GRAVED ihre Wurzeln im klassischen Doom Metal haben und sicherlich kann man den ein oder anderen Vergleich zu Pentagram und vor allem Place Of Skulls ziehen... Aber das kürzlich über Svart Records erschienene gleichnamige Debütalbum bietet auch reichlich Einflüsse aus dem klassischen Hardrock, 70er Heavy Rock und Heavy Metal, versehen mit einem erstklassigen, frischen und mitreißenden Sound. Dies und die Tatsache, dass es sich bei diesem Gastspiel um eine von nur 2 exklusiven Clubshow in Deutschland handelt, sollten dem geneigten Doom und Heavy Rock-Fanatiker die Entscheidung zur Anwesenheit sehr leicht fallen lassen.
Facebook:
facebook.com/pages/In-Graved/535832859779587
Reverbnation:
reverbnation.com/victorgriffin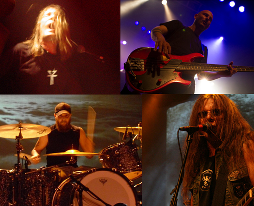 BLUES PILLS
70's Blues/Heavy Rock | US/SWE/FRA
Weil IN-GRAVED an Exklusivität nicht genug sind, gibt es an diesem Abend noch eine sensationelle Supportband: Die erst Ende 2011 gegründeten 70er Blues/Heavy Rocker von BLUES PILLS mit Ausnahmesängerin Elin Larsson werden zwischen dem Roadburn Festival und dem Desertfest in Berlin auch bei uns in Nürnberg halt machen und den Okkultrock-Milchbubis mal zeigen wie energiegeladener Heavy Rock mit Blues/70er/Psychedelic-Schlagseite wirklich geht! Erscheinen Sie sonst weinen Sie!
Homepage:
bluespills.com
Facebook:
facebook.com/BluesPills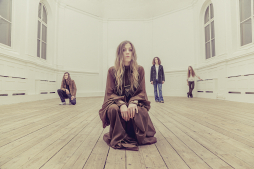 Montag 22.04.2013
Zentralcafé (im K4), Königstr. 93, Nürnberg


Einlass:

20:30


Beginn:

21:00


Doomkostenbeitrag:

10,- E

UR
In Kooperation mit Musikverein Concerts
Homepage:
musikverein-concerts.de
Facebook:
facebook.com/musikverein.nbg
Videos: