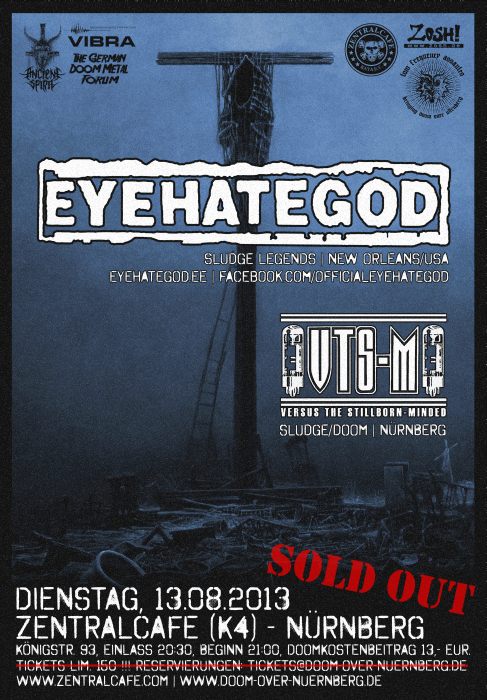 !!! SOLD OUT !!!
EYEHATEGOD
Sludge Legends | New Orleans/USA
13 Jahre nach Ihrem letzten Auftritt in Nürnberg kehrt die Sludge-Legende EYEHATEGOD im Rahmen ihrer "Undermining Societys Rules Since 1988"-Tour in's Zentralcafé zurück. Zwar gab es innerhalb dieser 13 Jahre auch kein neues Studio-Album des New Orleans-5ers aber das braucht die Band, welche zu den Mitbegründern des so herrlich fies und abscheulich groovenden Sludge-Genres zählt, doch auch nicht wirklich zwingend. Aussagen des Gitarristen Jimmy Bower zu Folge, gab es bisher noch kein neues Studio-Album, weil man sich nicht sicher war, ob man es noch genauso dreckig und kaputt hinbekommt wie in den 90ern. Auf den Touren 2011 und 2012 haben EHG bereits eindrucksvoll unter Beweis gestellt, dass ihnen diese Fähigkeiten nicht abhanden gekommen sind... So wird es wirklich Zeit, dass sich EYEHATEGOD nun in die Necropolregion verirren und mit Feedback-Orgien, einem mörderischen Groove und tiefergelegten fiesesten Riffs ein paar Köpfe abschrauben und das K4 zerlegen!
Facebook:
facebook.com/officialeyehategod
Homepage:
eyehategod.ee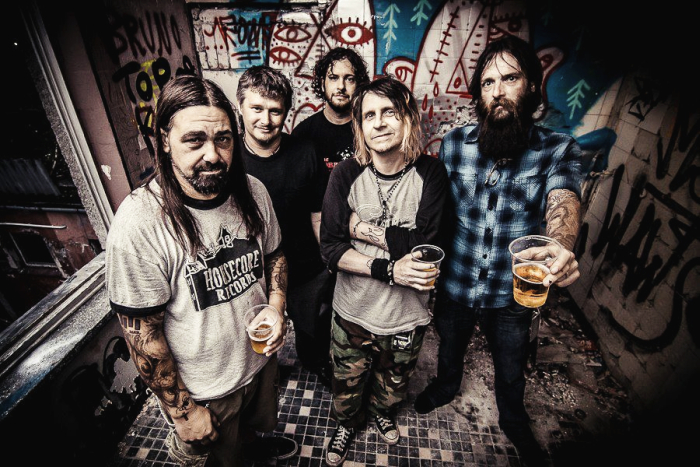 VERSUS THE STILLBORN-MINDED
Sludge Doom | Nämberch/Bierfranken

Nürnberg's hässlichste Band beim ersten Heimspiel mit neuem Album "The Eternity Itch" im Gepäck. Ein zerstörerischer Mix aus Sludge, Doom und allerlei
atmosphärischen und progressiven einsprengseln!
Facebook:
facebook.com/pages/VERSUS-THE-STILLBORN-MINDED/309649839049611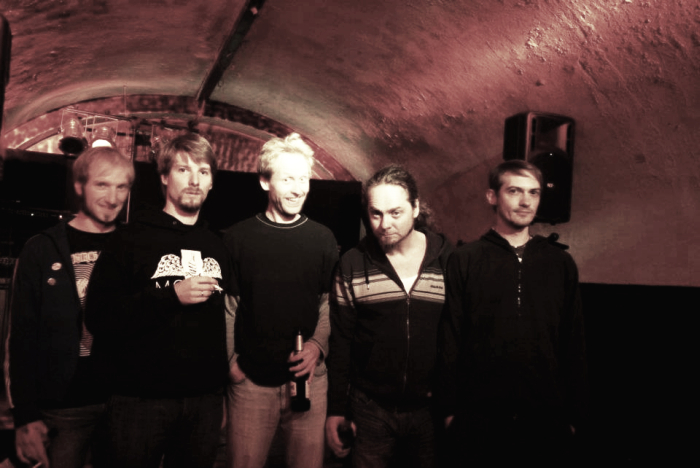 Dienstag 13.08.2013


Zentralcafé (im K4), Königstr. 93, Nürnberg

Einlass:

20:30 Uhr

Beginn:

21:00 Uhr

Doomkostenbeitrag:

13,- EUR / Tickets limitiert auf 150 Stück!!!

Ticket-Reservierung:

tickets|a|doom-over-nuernberg|.|de !!! SOLD OUT !!!


In Kooperation mit Cafe Kaya e.V.

Homepage:

zentralcafe.com

Facebook:

facebook.com/zentralcafe.kaya

Videos:

EYEHATEGOD "Blank" (live at Hellfest 2011)

VERSUS THE STILLBORN MINDED "Hidden Pudenda"