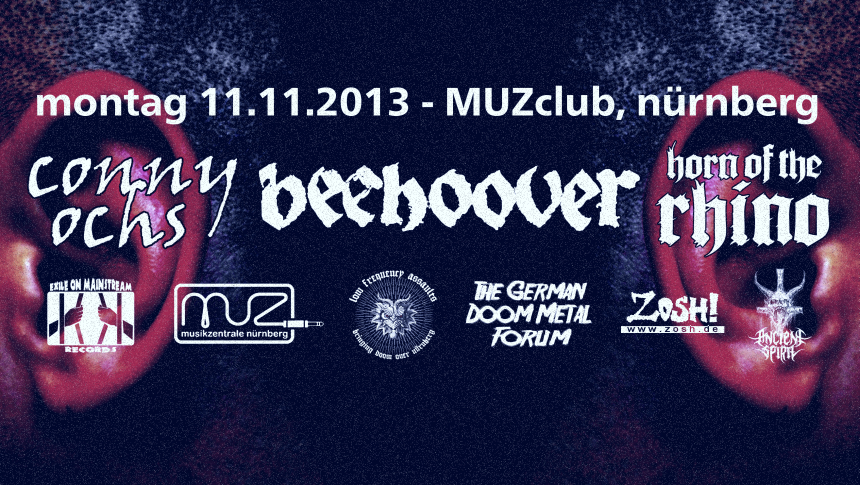 BEEHOOVER
2-Mann Doom aus'm Ländle
Seit 10 Jahren treibt das Duo BEEHOOVER sein Unwesen in Genregrenzen-sprengender Weise. Die Schwaben schaffen es in ihrer Zweier-Besetzung besonders bei Live-Shows mit unglaublicher Leichtigkeit das Publikum in den Bann zu ziehen. Die Herren Ingmar Pettersen (Bass, Vocals) und Claus-Peter Hamisch (Drums, Vocals) veröffentlichen die Tage auch pünktlich zur anstehenden Deutschland-Tour ihr mittlerweile drittes Album "The Devil And His Footmen" über unser aller Lieblingslabel Exile On Mainstream.
Wer eine der früheren Shows von BEEHOOER in Nürnberg erleben durfte, der weiß, dass die beiden lustigen Musikanten im Rahmen ihrer explosiven Mischung aus Doom, Stoner, Sludge, Prog, Heavy Rock und post-metallischen Einflüssen allerhand mörderische Riffs auffahren, die in meterhohen Soundwänden gipfeln und gelegentlich auch mal in verschwurbelte Breaks zusammenstürzen. In jedem Fall setzen BEEHOOVER alles daran, das andächtig lauschende Publikum mit ihrem Rhythmus-Bollwerk platt zu machen. Unbedingt anschauen!!!
Homepage:
beehoover.com
Facebook:
facebook.com/beehoovermusic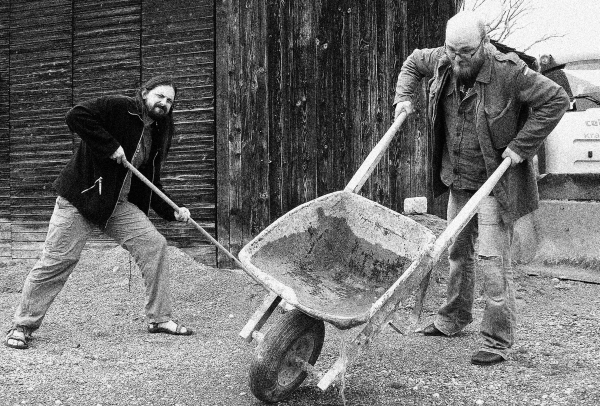 HORN OF THE RHINO
Doom Thrash aus Bilbao/Spanien
Die Spanier HORN OF THE RHINO erschaffen mit ihrem ungewöhnlich als Doom Thrash bezeichneten Sound ein monströses Klanggebilde und brechen daraus auch gerne mal mit überraschenden Wendungen in Richtung Sludge und gar Grunge aus. HORN OF THE RHINO haben bereits 2 Alben veröffentlicht und ich bin mir sicher, dass die Band nach der Show in Nürnberg um einige Exemplare ärmer sein wird! Wer noch Namen braucht, um den Sound der Spanier erahnen zu können: High On Fire beim Schlammcatchen mit Eyehategod, Slayer und Alice In Chains!


Homepage:

hornoftherhino.com


Facebook:

facebook.com/pages/HORN-OF-THE-RHINO/111074398936133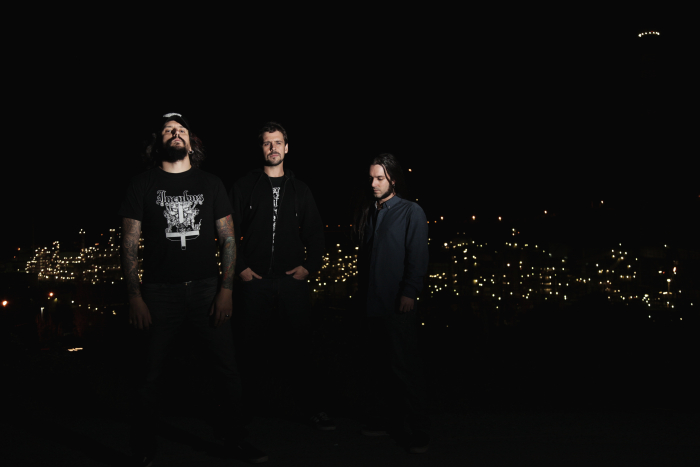 CONNY OCHS
Raw Love Songs/Dark Folk
Seit über 10 Jahren ist Conny Ochs bereits in verschiedensten Bands, Musikprojekten und zuletzt sehr aktiv als Solokünstler unterwegs. So sorgte er mit dem Album "Heavy Kingdom", einer Kollaboration mit Scott "Wino" Weinrich 2012 auch in internationalen Szenekreisen für Aufsehen. In seinem neuesten Solowerk "Black Happy" (via Exile On Mainstream Rec.) baut Conny Ochs nur mit Gesang und Gitarre bewaffnet seine musikalische Vision vom "Dark Folk" weiter aus. Mit allen Ecken und Kanten bewegt sich die Atmosphäre seiner Musik zwischen Melancholie und seelischer Läuterung. Eine perfekte Einstimmung auf die bereits bedrohlich aus der Ferne heraneilenden Riffgewitter der nachfolgenden beiden Bands!


Homepage:

connyochs.com


Facebook:

facebook.com/pages/Conny-Ochs/112536815501097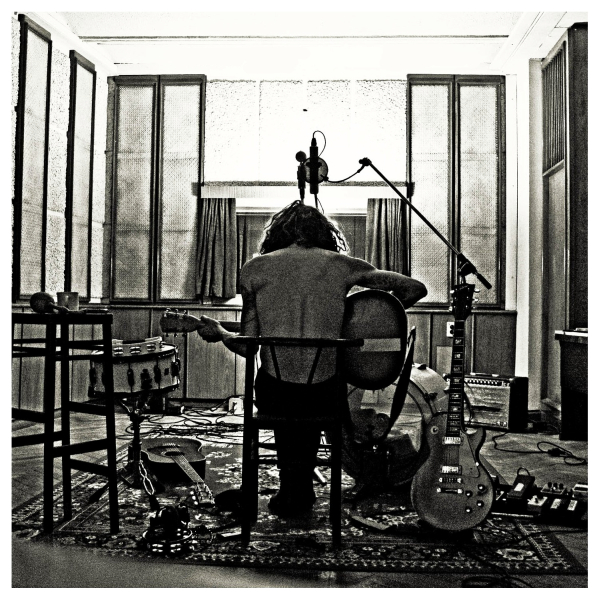 Montag 11.11.2013
MUZclub, Fürther Str. 63, Nürnberg


Einlass:

19:00 Uhr


Beginn:

19:30 Uhr


Doomkostenbeitrag:

9,- EUR /

Ermäßigt:

5,- EUR (mit dem Nürnberg-Pass)
In Kooperation mit der Musikzentrale Nürnberg e.V.
Homepage:
musikzentrale.com/web/muz-club
Facebook:
facebook.com/musikzentrale.nuernberg
Mit freundlicher Unterstützung von Exile On Mainstream Rec.
Homepage:
mainstreamrecords.de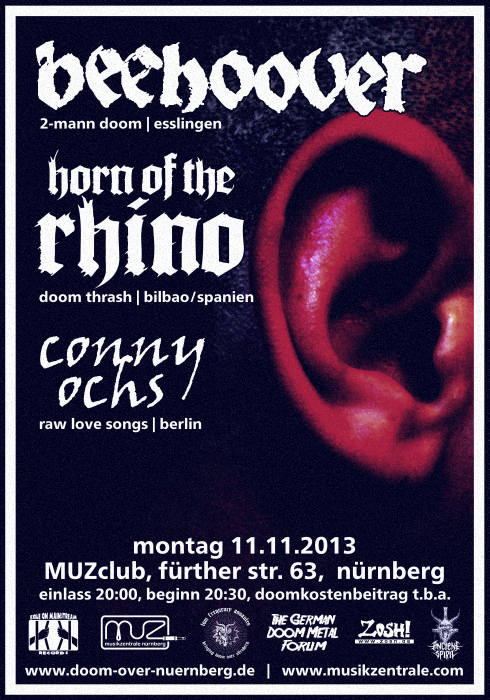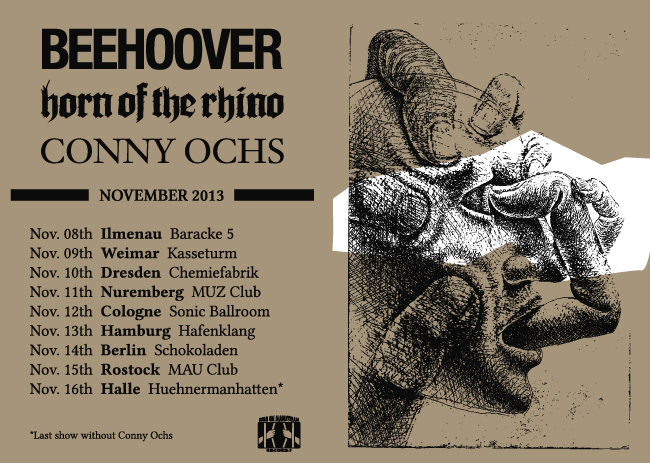 Videos:
BEEHOOVER "Pain Power"
HORN OF THE RHINO "Grengus"
HORN OF THE RHINO "Under The Hoof"
CONNY OCHS "Ghost Dog" & "Burn Burn Burn" (live at Babylon Kino, Fürth 2013)