R.I.P. Jason Daniel McCash
(* 19.04.1976 - † 05.04.2014)
Jason McCash, Bassist der Doom Metal-Band THE GATES OF SLUMBER aus Indianapolis/USA, verstarb am Samstag 05.04.2014 im Alter von nur 37 Jahren. Dies vermeldete zunächst Sänger/Gitarrist Karl Simon via Facebook bevor die tragische Nachricht am Sonntag auch auf der offiziellen Homepage der Band bekanntgegeben wurde. Die Todesursache ist derzeit noch unklar. Jason hinterlässt seine Frau Bridget, seinen Sohn Jayden sowie die Töchter Ireland und Athena. Um seine Familie in dieser schwierigen Zeit zu unterstützen wurde ein Gedächtnisfonds via Gofundme eingerichtet: gofundme.com/McCash-Family-Fund

Zusammen mit Bands wie REVEREND BIZARRE und ORODRUIN gehörten THE GATES OF SLUMBER zum damaligen C.O.T.D. (Circle Of True Doom) und sorgten in den 2000ern mit ihrem kompromisslosen traditionellen Doom Metal auf vielen Europa-Touren für schmerzende Nackenmuskeln und von fettesten Riffgewittern geplättete Doomjünger. Im Gespann Karl Simon (Gesang/Gitarre) und Jason McCash (Bass) entstanden mit wechselnden Drummern ("Iron" Bob Fouts, J. Clyde Paradis,
Chuck Brown,

Chris Gordon) in den Jahren 2000 bis 2013 unzählige Demos, Compilation-Beiträge, EPs und insgesamt 5 Alben, von denen die letzten beiden über Lee Dorrian's Label Rise Above Records erschienen sind. Jason McCash war im Herbst 2013 bei THE GATES OF SLUMBER ausgestiegen, woraufhin die Band vorerst in Tiefschlaf versetzt wurde.
Aus diesem wird sie nun nie wieder aufwachen. Sänger/Gitarrist Karl Simon schrieb auf der Facebook-Seite der Band: "
My best friend died last night. There will be no reunion - no more of TGoS. It's dead beyond dead, and I've lost a brother.
Please be respectful or silent. It's a small world and I'm still alive. Remember that shit."
Wir trauern um einen guten Freund, hinter dessen archaischen Bühnen-Posen sich eine freundliche und aufgeschlossene, tatsächlich eher zurückhaltende Person verbarg. Wir durften Jason durch viele Gespräche in der Kunstverein-Küche, am Lagerfeuer im Hinterhof, beim verkaterten Frühstück am nächsten Morgen, bei Sightseeing-Touren durch Nürnberg oder auch bei Festivals wie dem "Doom Shall Rise" als Bruder im Geiste kennenlernen. Das alles sowie auch das gemeinsame Erleben großartiger Live-Shows und den zeitlosen Doom, den er zusammen mit Karl Simon erschaffen hat, behalten wir in guter Erinnerung. Unsere Gedanken sind bei seiner Familie, seinen ehemaligen Bandmitgliedern und seinen Freunden.
Jason beehrte uns im Kunstverein zu Nürnberg mit seiner Band bei nachfolgenden Shows:
13.04.2005 - THEE PLAGUE OF GENTLEMEN (BE) + THE GATES OF SLUMBER (US)
01.11.2006 - "Doom Over Nürnberg II" - REVEREND BIZARRE (FIN) + THE GATES OF SLUMBER (US) + CENTURIONS GHOST (UK) + BIBLE OF THE DEVIL (US) + DOOMRAISER (IT)
14.05.2007 - "Doom Over Nürnberg III" - EARTHRIDE (US) + THE GATES OF SLUMBER (US) + CENTURIONS GHOST (UK) + OBIAT (UK)
18.10.2009 - THE GATES OF SLUMBER (US) + SPIRITUS MORTIS (FIN)
05.04.2011 - PLACE OF SKULLS (US) + THE GATES OF SLUMBER (US)
Quelle:
slumberingsouls.com
Bericht:
pitchfork.com/news/54666-the-gates-of-slumber-bassist-jason-mccash-dead-at-37
Gedächtnisfonds:
gofundme.com/McCash-Family-Fund
THE GATES OF SLUMBER "Riders Of Doom"
Re-Recording from 2013 and only released as a digital single!
Original Album:
Suffer No Guilt (2006, I Hate)
Homepage:
slumberingsouls.com
Facebook:
facebook.com/thegatesofslumber
THE GATES OF SLUMBER
Live at "Doom Shall Rise" Festival in Göppingen/Germany on 28.04.2007
THE GATES OF SLUMBER "Ice Worm"
Live at Kunstverein in Nürnberg on 05.04.2011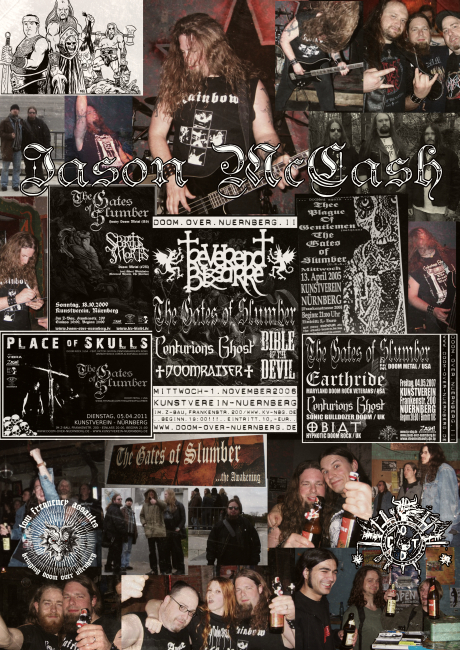 "
What of the world I leave forever?
Phantom forms in a fading sight
Carry me out on the ebon river
Into the Night.
"