THE ANTIKAROSHI
Krautpostpunknoiserockpop | Potsdam
THE ANTIKAROSHI sind ein Trio aus Potsdam in klassischer Besetzung: Gitarre, Bass und Drums. Von der "durch den DDR Punk & Avantgarde-Underground" geprägten Band werden gerne mal unkonventionelle Gesangs-, Keyboard- und Saxophoneinlagen eingestreut, dazu mal ruppiger Gesang, mal zuckersüße Melodien, Soundcollagen und Klangexperimente, Krautrock-Rhythmen, Noise und Pop abwechselnd oder auch gleichzeitig.
Der Abwechslungsreichtum kennt bei dieser aus den erlesenen Kreisen unseres Lieblingslabels Exile On Mainstream Records stammenden Band keine Grenzen.
In P.O.P. we rust!!!
Homepage:
theantikaroshi.de
Bandcamp:
antikaroshi.bandcamp.com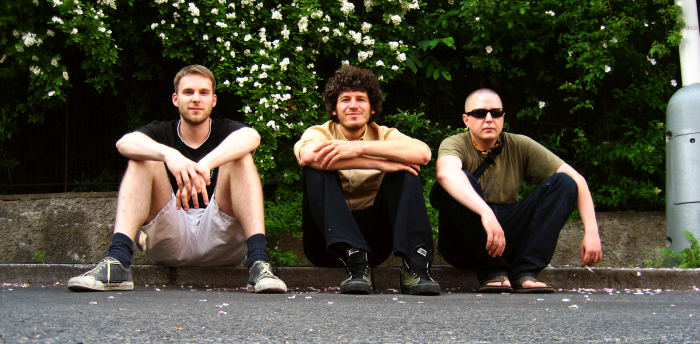 MOBILE TIEFGARAGE
Multilinguale Instrumentalmusik aka Frickel Rumpel Impro Deluxe | Nürnberg
MOBILE TIEFGARAGE, das ist Musik, die im doppelten Sinne "live" ist: Nicht nur die Sounds entstehen dort, wo man ist, sondern auch das jeweilige Stück. Es entsteht nämlich durch Improvisation, wird also live "geschrieben". Wer die Protagonisten und deren Projekte kennt, freut sich auf eine wahnwitzige Reise durch einstürzende Kartenhäuser und berstende Discokugeln untermalt von einer Sinfonie aus Riffs und Rhythmik.
Montag 27.04.2015
MUZclub, Fürther Str. 63, Nürnberg
Einlass:
19:30 Uhr
Beginn:
20:00 Uhr
Doomkostenbeitrag:
7,- EUR
Facebook-Event:
facebook.com/events/416043005212750
In Kooperation mit der Musikzentrale Nürnberg e.V.
Homepage:
musikzentrale.com
Facebook:
facebook.com/musikzentrale.nuernberg
Unser Lieblingslabel Exile On Mainstream Records
Homepage:
mainstreamrecords.de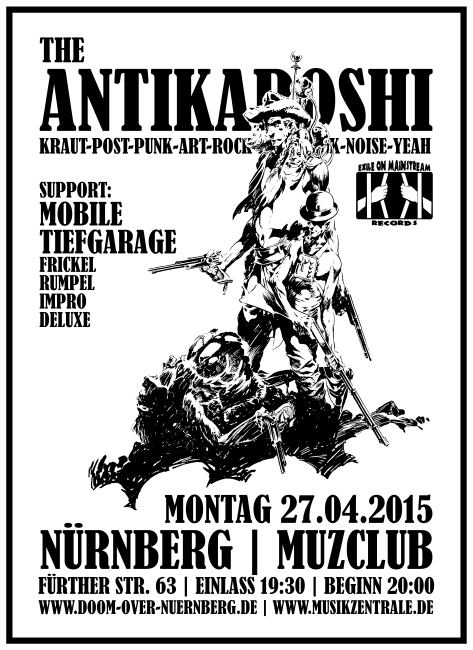 Video:
THE ANTIKAROSHI "Blow"
Music: