SPITTING NAILS
Tiefergestimmter 90er Dark HC & Crustkeule | Hamburg
Mit Leuten bekannt aus anderen Endzeit-Kapellen wie Members of The Gentle Art of Chokin´, Attack of the mad Axeman, Zeroid, Butch Meier, Black Sunday & L.U.K.A.!
Blast-Beat-Geballer, massive Double-Bass-getriebene Grooves, mächtige Riffs, fiese Leads und kernige Typen!
Facebook:
facebook.com/spittingnailshc
Bandcamp:
spittingnailshc.bandcamp.com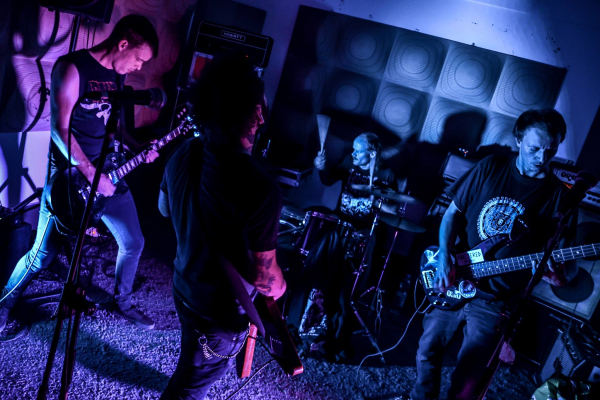 CONFUSION MASTER
Electric Sabbath Action Doom | Rostock
Neue Kapelle mit Leuten von Wojzech & Bad Luck Rides On Wheels! Bis unter die Schuhsohle hinaus runtergestimmte Gitarren nehmen Dich mit auf eine 50 Hz Downtempo-Tritonus-Expedition. Danach gibt es keinen Morgen mehr.
Bandcamp:
wifagenarecords.bandcamp.com/album/wr-45-confusion-master-witch-pollution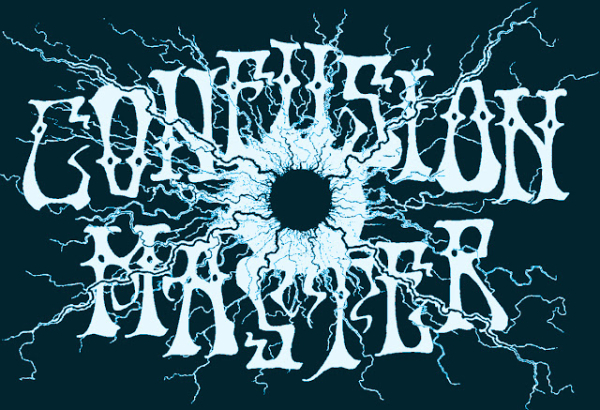 Samstag 17.09.2016
Kunstverein (im Z-Bau), Frankenstr. 200, Nürnberg
Einlass: 20:00 Uhr
Doomkostenbeitrag:
6,- EUR (AK)
Facebook-Event:
facebook.com/events/973356882781001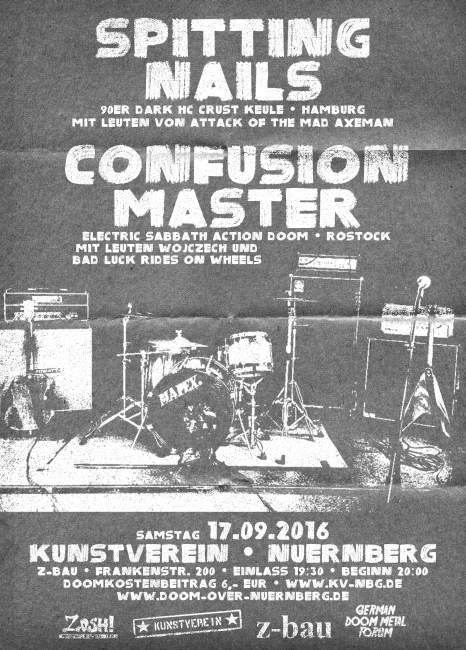 KUNSTVEREIN HINTERE-CRAMERGASSE E.V.
40 Jahre Subkultur in Nürnberg
Homepage: kunstverein-nuernberg.de
Facebook:
facebook.com/kv.nbg
Z-BAU
Haus für Gegenwartskultur in Nürnberg
Homepage:
z-bau.com
Facebook:
facebook.com/zbaunbg
Music: