Low Frequency Assault #10 - Der Doom/Sludge-Abriss in Nürnberg seit 2004

NAEVUS
Doom Rock | Ludwigsburg
Doom will Weile haben: Ganze 18 Jahre sind vergangen, seit NAEVUS aus Süddeutschland ihr Debütalbum "Sun Meditation" über das britische Label Rise Above Records veröffentlicht haben. Nach einer 13-jährigen Bandpause (1999-2012) beschloss das Quartett, die Arbeit an einer zweiten Veröffentlichung aufzunehmen. Vier Jahre später ist das Album "Heavy Burden" nun via Meta Matter Records erschienen und spielt in der ersten Liga der Doom-Alben 2016 ganz oben mit.
Wer sich bereits früher mit den deutschen Doom-Urgesteinen beschäftigt hat, wird feststellen, dass NAEVUS deutlich entspannter zur Tat schreiten, als Ende der 90er Jahre. Grooviger, bisweilen aber auch leicht jazziger Doom Metal, rockige Stoner-Parts, die sanfte Stimme von Sänger Uwe, das versierte Schlagzeugspiel von Drummer Mathias: NAEVUS sind erwachsen geworden, klingen deshalb aber nicht minder kompromisslos.
Passend dazu hat sich auch der Ansatz hinter der Band verändert. Fragt man Uwe danach, was ihm das neue Album bedeutet, so antwortet er: "Das Album bedeutet für mich, die Musik zu machen, die mir Spaß macht und eine geile Zeit mit einigen meiner besten Freunde zu verbringen. Was Besseres kann glaube ich nicht passieren."
...und genau so soll es auch bei unserem Sludge/Doom-Abriss LFA #10 sein!
Facebook:
facebook.com/naevusdoom
Bandcamp:
naevusdoom.bandcamp.com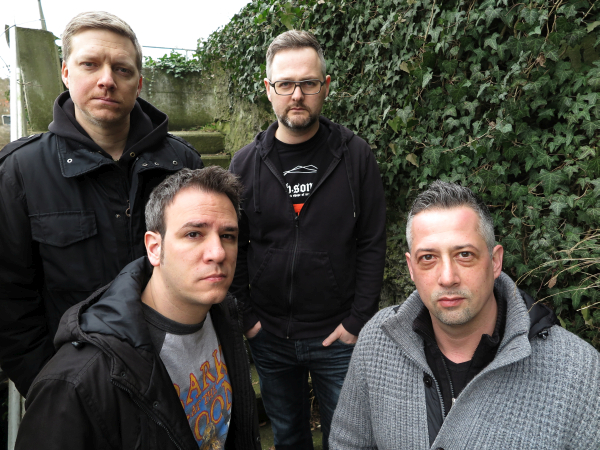 CROWSKIN
Doom/Sludge/Hardcore | Potsdam
Seit 12 Jahren poltern CROWSKIN ungestüm und höchst eigenständig durch ihren zerstörerischen Mix aus Doom, Sludge und brachialem Crust. Seit diesem Jahr mit neuer Sängerin Ulla und dem letztjährigen Album "Ganz ins Herz" im Gepäck wird es auch beim mittlerweile dritten Besuch in Nürnberg (zuvor 2009 beim LFA #6 und 2014 im Zentralcafé) keine Kompromisse geben.
Zeitlupencrust mit Untergangs-Lyrik!
Facebook:
facebook.com/crowskin666
Bandcamp:
crowskin.bandcamp.com
THE TOWER
Doom Metal | Prag/CZ
Mit einem nur auf Tape (beide streng limitierte Auflagen sind leider längst vergriffen) und digital veröffentlichten Demo sind THE TOWER aus Prag in hiesigen Gefilden noch ziemlich unbekannt. Umso mehr freuen wir uns, dass wir euch den ersten Auftritt der jungen Tschechen in Deutschland präsentieren dürfen. Ähnlich wie bei ihren Landsleuten NIKANDER schaffen es auch THE TOWER mühelos modernere Auswüchse des Doom (bzw. was heutzutage alles als Doom bezeichnet wird) vollständig aus ihrem Sound auszublenden. Hier herrscht doomige Urgewalt wie bei ganz alten CATHEDRAL. Mal kommen traditionellere Klänge in Richtung Heavy Metal durch, mal bricht der der Death Metal aus, zusammengehalten von einem soliden und schnörkellosen Doom-Fundament. REVEREND BIZARRE haben die Tschechen sicher schonmal gehört und auch ein paar an die sträflich unterbewerteten FALL OF THE IDOLS erinnernde Momente finden sich bei THE TOWER wieder. Diese Band sollte man unbedingt auf dem Schirm behalten.
Facebook:
facebook.com/thetowerdoom
Bandcamp:
thetowerdoom.bandcamp.com
NIKANDER
Sludge Doom | Brno/CZ
Mit nur einem 2-Song-Demo im Gepäck traten NIKANDER Anfang diesen Jahres erstmals in Erscheinung. Darauf gibt es Sludge in seiner Urform zu hören... Keine nervige Okkult-Ästhetik oder psychedelisches Retro-Geschwurbel versperrt die Sicht auf das wahre Wesen dieser Musik. Kompromisslos, tiefergestimmt, groovig und mit der fiesen Keifstimme von Sängerin Jana passen NIKANDER zum LFA wie kaum eine andere Band. Freunde von GRIEF, IRON MONKEY und ähnlichen Kapellen dürften hieran durchaus Gefallen finden.
Facebook:
facebook.com/nikander666
Bandcamp:
nikander.bandcamp.com
Samstag 10.12.2016
Kunstverein (im Z-Bau), Frankenstr. 200, Nürnberg


Einlass:

19:30 Uhr


Beginn:

20:00 Uhr


Doomkostenbeitrag:

10,- EUR (AK)


Ticket-Reservierungen:

tickets@doom-over-nuernberg.de
Facebook-Event:
facebook.com/events/1772404236315034
Am Vorabend,
Freitag 09.12.2016
steigt eine
Warm Up Show
mit einem speziellen Set der Nürnberger Sludge Doomer
VERSUS THE STILLBORN-MINDED
(D) und unterstützt vom Industrial Doom Rock-Duo
LUSCA
(D)! Noch dazu
freier Eintritt
(Hutsammlung), Kicker, Kanone, Hetzelsdorfer, Ammerndorfer, Krach!
Mehr Informationen dazu gibt es hier:
low-frequency-assaults.blogspot.de/2016/11/09122016-low-frequency-assault-10-warm.html
Facebook-Event:
facebook.com/events/1467371446622806
Music: