!!! LEIDER ABGESAGT !!!
Auf Anordnung der Stadt Nürnberg bzw. des Ordnungsamtes dürfen im Bela Lugosi bis auf weiteres keine Konzerte mehr stattfinden. Da wir leider keine geeignete Ausweichlocation für diese kleine aber feine Show auftreiben konnten, müssen wir das für Donnerstag 30.10.2014 geplante Konzert mit den ungarischen Doomern MAGMA RISE leider schweren Herzens absagen... Wir hoffen dass die Band um Szene-Urgestein Gabor Holdampf dann vielleicht in einem Jahr im wiedereröffneten Kunstverein im Z-Bau ein Gastspiel geben kann!
MAGMA RISE
Doom Metal | Budapest/Ungarn
Vor einigen Jahren von Gabor Holdampf (ex-Wall Of Sleep) ins Leben gerufen, führen MAGMA RISE den Sound der alten ungarischen Doomer Wall Of Sleep und Stereochrist fort. Allesamt sind diese kapellen seit jeher regelmäßig bei uns in Nürnberg zu Gast und manche Band-Mitglieder dürften mittlerweile knapp an ihrem 10. Auftritt in Nürnberg dran sein... Grund genug die Band bei freiem Eintritt (Hutsammlung) im Bela Lugosi zu feiern!
Homepage:
magmarise.net
Facebook:
facebook.com/magmarise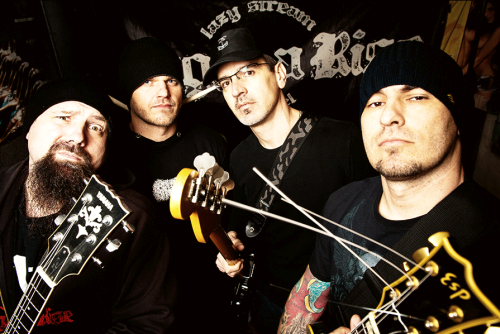 Donnerstag 30.10.2014
Bela Lugosi, Marienstr. 25, Nürnberg
!!! LEIDER ABGESAGT !!!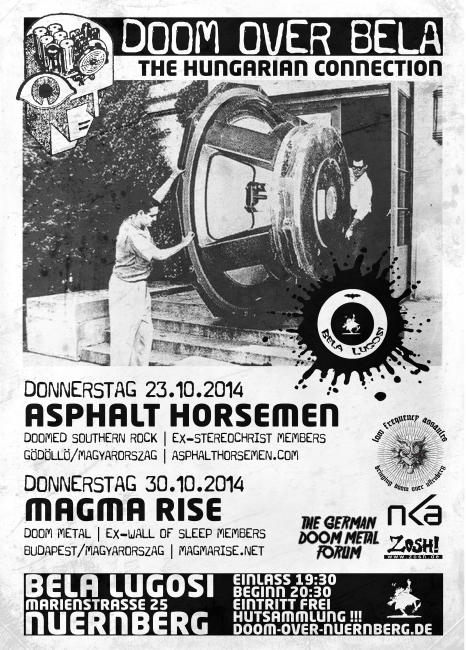 Videos:
MAGMA RISE "Five"
MAGMA RISE "Time Has Been Given" (live 2013)